Post Classifieds
Finding the Right Career
Transitioning from a teenager to an adult is one of the hardest stages of life we all must go through. It consists of us becoming independent, aiming for bigger aspirations, and finding our niche in life.
Easier said than done; during this time it's common for us to get lost and just confused on how our future will look, or even should look. One of the biggest issues we deal with is not knowing what type of career that will make us happy and financially stable in the future to come. Choosing a career or a specific path towards your aspired career is one of the main foundations of transitioning into adulthood.
Just knowing what you want to do career wise is the first stepping stone towards figuring out how you will spend the next couple of years working towards that dream.
3 tips that will help you find the career that suits the person you are:  
Be social and active in the community
If you have no clue about what career you want to pursue or how to even figure that out, then the first thing you should do is get involved!! You won't have career choices if you don't even know the types of careers that are out there. Play sports but if you're like me then you're a sports watcher, not player, so join clubs or do community service.
The more you get involved in your community, whether that's your high school, college, or neighborhood, the more you will find hidden abilities and aspects of yourself that will guide you on your path to self-discovery which will help you find the career that amplifies those abilities.
Ever since I was a kid I desired to become a veterinarian. When I went to high school I took part in so many clubs like journalism, school band, community service, leadership programs, and even played a sport … shockingly. Throughout all those clubs I realized that I had a passion for writing and bringing my ideas to life on paper. Yes, I still want to be a veterinarian but joining these clubs made me realize that my only aspiration isn't just being a veterinarian but also being a journalist/author.
Once you find the club that fits you, get to know the people in it. This will not only help you to build a bond with others who have the same interests but also help you decide whether this is the right decision.
Be true to yourself
Family and friends always impact our lives in so many ways. Our life revolves around our family, but it's also important to have an independent identity and you will need your own identity in order to choose the career that's right for you. If you're scared to death of blood but your older sisters and brothers are surgeons, that does not mean you should become one too because that might end badly — for you and the patient.
Family is an important foundation of who we are. Family influences the things we like, the way we dress, and the food we eat but it's important to know who we are as individuals outside of the family. Growing up means becoming independent, and creating a family of your own someday and to do that you need to have a strong understanding of the person you are.
Being true to yourself is another important stepping stone towards finding the right career for you and finding that career will not only bring you success but also bring happiness to your family. Do not choose a career you are not comfortable with or a career that you're forced into. If your heart is not into your career you are going to wake up every morning hating your job and every night counting down the minutes left to go home. No one wants to live like that.
A lot of parents live like that to ensure that their children have the opportunity to have the career that makes them wake up happy in the morning. To make sure my own parents' hard work and struggles pay off, I have to find the career that's right for me and to do that I need to figure out who I am and the things I enjoy doing.
Gain valuable experience
Once you've settled on a particular career that you're interested in, your next step is to learn more about it and do some research. Gaining some outside experience within that field will help you not only build up your resume but also gain more insight about the job and earn quality hands on experience.
If your aspiration is to become a doctor, shadow one of the doctors at your local hospital. If you want to become a teacher, do internships as a Teacher's Assistant or if you're in high school help your teacher grade papers, come up with lessons, or just ask important questions. If you're like me and want to become a veterinarian, first of all, awesome choice!! and secondly, try shadowing your local veterinarian, volunteer at animal shelter,s or become a dog walker.
If you're still having trouble figuring out the type of career you should aim for don't worry; as long as you are getting involved in extracurricular activities and being true to yourself you will eventually get there. Everyone is different and we all develop and grow at our own pace. Don't worry about running out of time to figure out yourself completely because most of us still haven't. As life goes on and the days pass, bits and pieces of yourself will surface and each time it does will be a step closer to figuring out what career you want, who you are, and the things you are able to accomplish.
Discuss This Article
More Uloop Entertainment Articles
UNIVERSITY OF WISCONSIN HOUSING LISTINGS
See all UNIVERSITY OF WISCONSIN Housing Listings
UNIVERSITY OF WISCONSIN Housing Listings
GET TOP STORIES DELIVERED WEEKLY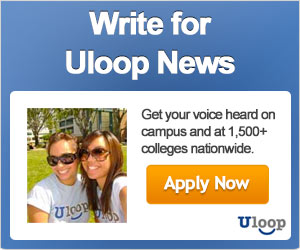 TOP COLLEGE NEWS