Post Classifieds
Uloop Morning Mix: Princeton tops college rankings, iPhone X and Irma cleanup begins
Hey, Tuesday. Thanks for dropping by – here are the stories you should know about before heading onto your campus for another day of higher education:
PRINCETON NAMED TOP COLLEGE IN AMERICA
The Washington Post reported that U.S. News and World Report had released its annual college and university ranking list Tuesday.
The number one spot on the national university list was claimed by Princeton University for the seventh consecutive year while Williams College clenched the number one spot on the liberal arts list for the fifteenth consecutive year.
"Factors in the rankings include graduation and retention rates, surveys of college officials and high school counselors, spending on faculty and selectivity in admissions," the Post wrote.
Read here to see where your college ranks.
—————————————————————————————————————————–
DAMAGE FROM HURRICANE IRMA DOESN'T APPEAR AS BAD AS FEARED
Florida residents are beginning to survey the damage across the state, as the massive storm slowly rolled into Georgia.
The New York Times reports that, "the damage in Florida was not as bad as some had predicted, partly because there was less flooding than expected. Still, more than 60 percent of residents are without power, and the Keys sustained heavy damage."
The damage in the Caribbean region is far worse than what the U.S. mainland appears to have sustained. In some areas, it could take years to recover from the trail of destruction that Irma left behind.
—————————————————————————————————————————–
NEW IPHONE TO BE REVEALED TODAY
Apple is back in the spotlight, today revealing what some experts are calling it's most important line of products in years. The star of the show — which will be the first press event held in the new Steve Jobs Theatre — is a new iPhone, which could cost up to $1,000.
According to Recode: "The company is expected to announce new iPhones — including a high-end device, potentially called the iPhone X — plus a new Apple Watch and Apple TV device, and maybe some more information about its HomePod speakers."
For all you Apple nerds out there, here's how to watch the event live.
—————————————————————————————————————————–
AND FINALLY,  A FEW TIPS ON HOW TO BEAT WRITER'S BLOCK
Yes, we know it's only like the third week of classes or something, but you've already got papers due. Which means you might already be having trouble with what to write.
No worries, Kennisha Crawford of Southern New Hampshire University is here with tips that can break up even the toughest writer's block.
Thanks for reading — hope our Tuesday is great and remember: Hump Day is only one day away, whoo-hoo!
—————————————————————————————————————————–
Discuss This Article
More Uloop News Articles
UNIVERSITY OF WISCONSIN HOUSING LISTINGS
See all UNIVERSITY OF WISCONSIN Housing Listings
UNIVERSITY OF WISCONSIN Housing Listings
GET TOP STORIES DELIVERED WEEKLY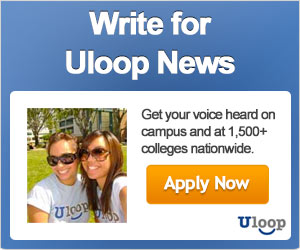 TOP COLLEGE NEWS