Post Classifieds
Uloop Morning Mix: Pasta pass is back, Berkeley OKs pepper spray and how not write a paper
Whichever college campus you are on in America this morning, we hope you are happy to see Wednesday. Here are a few of the things people are talking about today:
SCOTUS ALLOWS TRUMP TRAVEL BAN ON REFUGEES TO REMAIN IN PLACE
On Tuesday the Supreme Court temporarily granted the Trump administration to stop some 24,000 refugees from entering the U.S. while the court continues to review the challenges to the revised travel ban.
The New York Times reports that, "the court's brief order effectively reversed part of an appeals court ruling that had lifted the travel ban's restrictions on the nation's refugee program."
The court will hear arguments regarding the lawfulness of the ban on Oct. 10.
---
Receive the Morning Mix Daily
---
PASTA PASSES ARE BACK…WITH A 'CRAZY' TWIST
Olive Garden is making pasta lovers (and college students who can afford it) drool with anticipation, announcing the return of their popular "Pasta Pass." According to Business Insider, for a mere $100, OG will provide eight weeks of unlimited pasta, soup or salad, and breadsticks.
And, according to BI's report, "this year, 50 customers will also have the chance to buy a 'Pasta Passport to Italy.' For $200, the recipients of the pasta passport will receive an eight-day, seven-night, all-inclusive trip to Italy for two — plus their eight-week pasta pass."
A blurb on the website Five-Thirty-Eight claims that Olive Garden sold 22,000 pasta passes in one second last year. If only your dining hall was that popular…
---
BERKELEY POLICE CAN NOW USE PEPPER SPRAY ON VIOLENT DEMONSTRATORS
The Associated Press reports this morning that The Berkeley City Council "voted 6-3 Tuesday to allow police to use pepper spray to repel attacks on officers and others during the kind of violent protests that have rocked the city this year."
Most of those protests center on the campus of the University of California-Berkeley, often cited as the home of the free-speech movement and a barometer for campus uprisings.
"Officers were preparing for violence as soon as Thursday when conservative political commentator and former Breitbart editor Ben Shapiro appears on campus," the AP reported, "and again later this month when conservative figures have been invited to speak."
Pepper spray was banned as a crowd-control weapon in 1997.
---
AND FINALLY, HOW *NOT* TO WRITE A PAPER
Sure, sure, there are millions of articles telling you how to write a great paper, but how many can you think of that tell you how NOT to do it?
That's why you should be glad Ellie Drabnis put together this handy piece that outlines what you shouldn't do when working on that Sociology paper. Ellie is a communication major at Fairleigh Dickinson, so she knows what she's talking about.
That's it, you are set for Wednesday. Which is one day away from to Thursday, which is basically the weekend. 
---
Discuss This Article
More Uloop News Articles
UNIVERSITY OF WISCONSIN HOUSING LISTINGS
See all UNIVERSITY OF WISCONSIN Housing Listings
UNIVERSITY OF WISCONSIN Housing Listings
GET TOP STORIES DELIVERED WEEKLY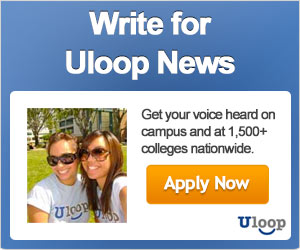 TOP COLLEGE NEWS